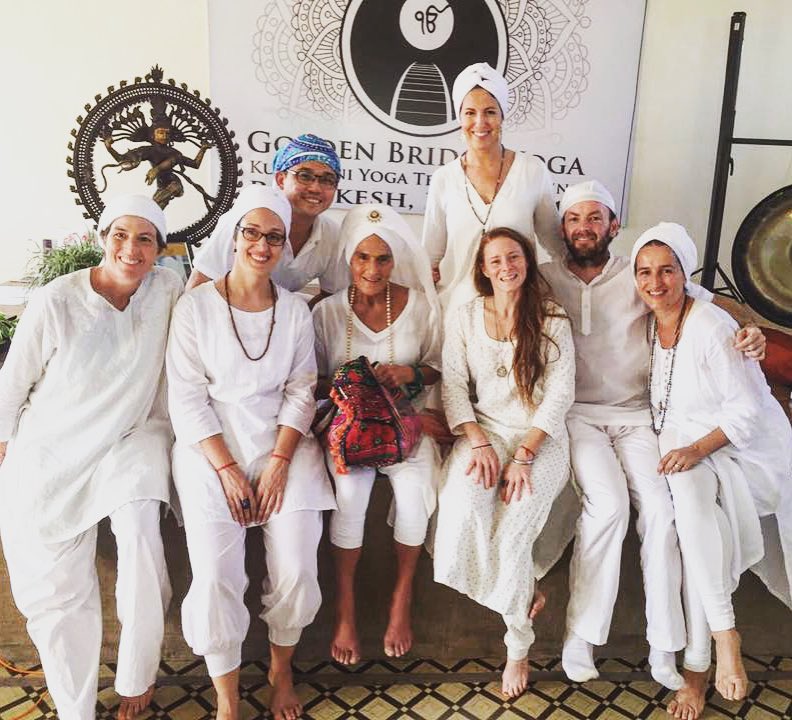 After my 3rd class of Kundalini Yoga, I knew I had found my yoga, one that connects me with my mind, body and soul joyfully, one that I will keep on practicing and practicing. And what I didn't expect back then, I ended up becoming a teacher of Kundalini Yoga. The above picture was taken with my amazing teacher Gurmukh and group members during my Teacher's Training at Rishikesh India. I am blessed to be given this chance to share and teach anyone who is willing to give Kundalini yoga a try.
My Yoga journey began 3 years back, when I attended a Yoga and Vipassana retreat in Chiang Mai, Thailand. What attracted me there initially was the Vipassana silent meditation. Being a regular meditation practitioner, my friends have been talking and sharing about Vipassana. I thought, this sounds like a great deal, to be able to experience both Yoga and Vipassana for the first time.
During the 5-day retreat, there was no communication allowed, no electronics, books, even notepads, nothing except me and green nature in front of me. Our routine in a day was, Vipassana meditation followed by yoga in the morning and afternoon, and meditation again at night. I remember ending my first day feeling so connected and aware of my breath and body, I became so alert throughout the night. Although I didn't manage to get into very perfect postures, however all those postures were good enough to teach me a wonderful lesson. The ability to relax in any situation or pose.
After coming back to SG, I was introduced to Kundalini Yoga by a friend. I remembered I was taken aback when I first attended the class. It begins with sharing and then the whole class began to do some chanting. We did regular movements of body parts, breathing and it felt so different from what I experienced in Hatha Yoga. I walked out of the class that day feeling that there is something that is indescribable going on within me, joyous emotions were arising and I felt a totally different sensation from my previous Yoga experiences. I began doing research on Kundalini Yoga and my interest grew the more I read about it.
What is Kundalini Yoga?
Kundalini Yoga is called the Yoga of Awareness. It is a dynamic, powerful tool that is designed to give you an experience of your soul. In Kundalini Yoga we harness the mental, physical, and nervous energies of the body and put them under the domain of the will, which is the instrument of the soul.
"Kundalini Yoga is the science to unite the finite with Infinity, and it's the art to experience Infinity in the finite."
-Yogi Bhajan, 10/27/88
This technology precisely and consciously combines breath, mudra, eye-focus, mantra, body locks, and postures to balance the glandular system, strengthen the nervous system, expand lung capacity and purify the blood. It brings balance to the body, mind, and soul.
Kundalini Yoga is a yoga for householders, for people who have to cope with the daily challenges and stresses of holding jobs, raising families, and managing businesses. It is a path for everyone who wants the skills to cope successfully with the challenges of our times.
Kundalini Yoga was kept very secret until 1969 when Yogi Bhajan taught it openly in order to prepare humanity for the major changes that this planet is going through as we cross from the Piscean to the Aquarian Age. The ancient technology of Kundalini Yoga gives us the awareness and the fortitude to make this a smooth transition. The legacy of technical and spiritual knowledge that Yogi Bhajan studied and mastered in India is the gift he brought to the West.
"In Kundalini Yoga the most important thing is your experience. It goes right to your heart. No words can replace your experience. Your mind may accept the words or it may not, but your consciousness will not accept just words."
-Yogi Bhajan, The Aquarian Teacher Training manual, p. 20
(Extracted from 3HO—the Healthy, Happy, Holy Organization.)
I believe there is no one form of Yoga that is more superior or suits everyone, in the journey of seeking, practicing yoga, you will eventually find your style of yoga too, one that you will find deep connection with. The key is to maintain an open mind, keep seeking and keep learning till you find the one and then be focused on it.
Sat Nam,
Derick Pang