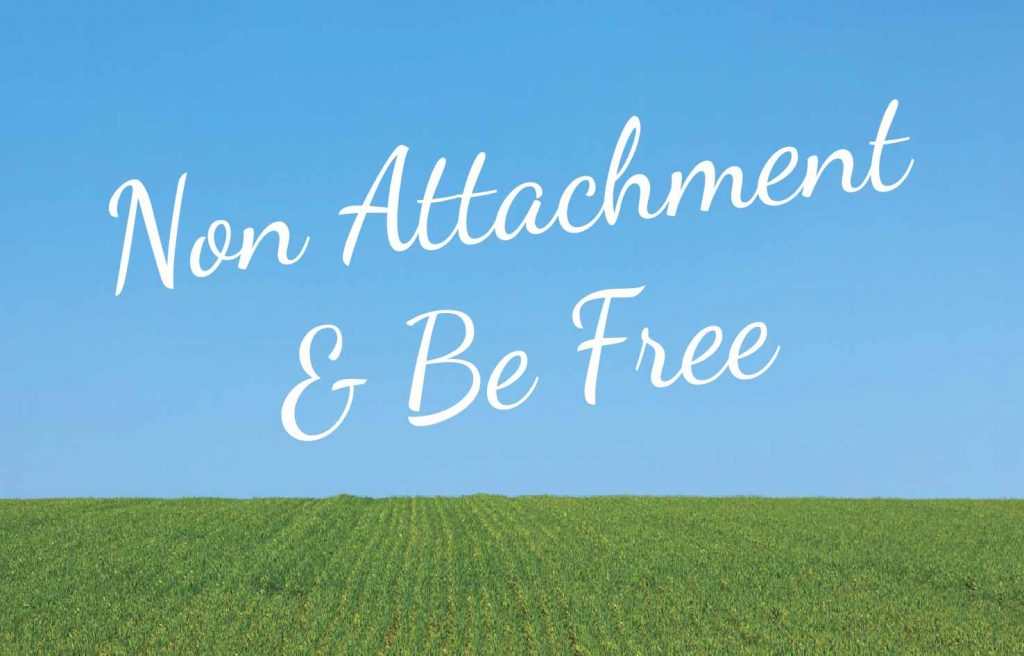 Sat Nam people, 3 more months and we are going to welcome 2018!! I hope your 2017 had really been WOW and amazing so far. If not, it's ok, use the next 03 months to kickstart a rhythm for yourself as you move into 2018 with a big bang! It's never too late to start, the only problem most people have is never had an intention to start. As long you are willing to take the first step, I believe things will happen for you.
A few weeks back I was talking to a friend, we covered quite bit on beginning a journey towards self-realization and spirituality. I shared something about expectations and non-attachment which I will like to share with you in this month's newsletter. One of the biggest cause to a person's misery is having attachments towards expectations. Whenever a situation or event did not turn out to be like our expectations. We immediately fall short and find faults with ourselves, things like, I am not good enough, I am not worthy to have this, only bad things like this will always happen to me…. Blah Blah Blah…. How many of you can relate to this?
Am I saying that a person must not have expectations? No, an expectation is what drives a person to start moving and doing something. I expect miracles to happen, which is why I go out and allow things to come or happen for me. What I am sharing is to let go of the attachment towards "I want things to happen exactly MY way." It is the attachment towards an expectation that kill, not the expectation itself.
I remember there was a time I decided to hold a workshop, I am in a super excited mode, I can see myself teaching more great stuff, sharing things that had transformed my life. I did visualization on how many people will fill up the room, how many Yeses will be happening, the room will be totally filled with people and all the great things I am expecting to happen. A few days went by, no responses, nothing was happening, things were not looking good for me. I started changing my marketing strategy, I rewrite my sales copy, I try to find another avenue for marketing, I did everything I could to get my message out.
Another few days went by again, still, no responses, nobody is answering yes to my invitation, nobody is coming to my class, thoughts started forming within me, "Maybe I am just not as good as I thought, maybe my class is not worthy to attend, I am such a failure, what good can happen for me." All these negative thoughts started hunting me as though long lost friends showing up again. I had allowed myself to be brought down and be beaten, I had chosen to lost faith in the Universe and forgotten the good I had within myself.
On the actual day of the workshop, I was looking at my computer, the thought of giving up came. I wasn't feeling good; the voice of I am not good enough was so loud that I didn't realized I was beating myself up so badly. As I sat down on my meditation pillow, I came back to my breathe and begin my meditation session. Just before I am done with the meditation, a thought came asking me to watch a video, this video was about self-love and empowerment. As I watched that video, I recalled why did I started out doing what I wanted to do, my purpose and intention of living the life as a teacher, I started feeling lighter and somehow I can breathe again.
I started looking back at what had been happening, what was the source that leads me to this state? It was my attachment towards the expectation I had, I was so hooked up with how many people will fill up the room, how many Yeses will be happening, the room will be totally filled with people and all the great things I am expecting to happen. This turnout to be a big "AHA" lesson for me, letting go of any attachment I had towards how I want things to happen. If things were to turn out to be what I thought, so be it, if it doesn't, I still will hold on to the faith that it's for my best interest. 02 person attended that workshop, despite this, I still show up 100%, giving my best and make sure everyone in the room including me was having a great fun time.
Why am I sharing this? I will like to invite you to start living from a place of non-attachment, whenever you notice yourself feeling angry, misery or sad. Stop and ask yourself, what is it that I am attached here? Is it the specific outcome that I wanted, Is it the specific expectation I am having or Is it because of a specific way of living I preferred. Let yourself off the hook, some things may not be the best thing that is happening for you, just trust that the Universe is still working and arranging something far greater you can imagine for you.
I will like to leave you with this question "What if my whole life has been wrong?", meditate on this and let's make October a month filled with lots of Love, Joy and Happiness.
Love freely, Live Happily, Life is meant to be awesome!